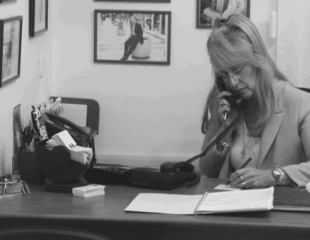 I visited A World of Jewish Singles office in Netanya four months ago. I was met and interviewed by Carol Shaw, founder, and Director of this international matchmaking agency, and I was most impressed by her professionalism and database. Most of her clientele are busy professionals, in the age bracket of men 28 to 55 and women 23 to 47, who for one reason or another have not met their match in life. She believes that as a licensed (England) marriage counselor and dedicated professional matchmaker, it is her destiny to get out there and help them meet that special someone.
She does so in a big way. After thirteen years in business, she has offices in Netanya, Tel Aviv, Jerusalem, and Haifa. In addition, she has branches in London, Brussels, New York, Germany, and Canada. "It is important to me," remarks Carol, "that Jews meet and marry other Jews. There is so much assimilation, even in Israel. When we first lived on Kibbutz Mishmar HaSharon, I saw Israelis meeting non-Jewish volunteers. Making matches is my personal effort to help Jews worldwide find love and marriage with a Jewish partner."
I decided to register as Carol's track record is one of success. Last year, she recorded 87 marriages and says that she has hundreds of clients going out together. "However," she emphatically states with her tempered Manchester accent, "we are interested in making marriages and are not a dating service." The walls in her Netanya head office are lined with pictures of married couples and her albums full of good looking, professional people. "I do not promise what I can not deliver," says Carol. "Therefore, I meet and interview each client. People who are listed with us must have an academic degree and a level of professionalism in their field. I am honest, selective, and know that I can not bring all things to all people. However, dealing within a certain strata of people, I can better find a good match."
Carol believes anything worth doing is worth doing well. She sits on a committee in the Knesset to draft a law that will require licensing of all matchmaking agencies. "There are some "matchmakers" that are no longer in the country because of their unscrupulous dealings," remarks Carol. "Just as other professions, such as real estate brokers require licensing, licensing of matchmakers will raise the level of expertise and protect the public."
According to Carol, the public is very much at risk. "I can not believe all the personal information people give out about themselves in newspaper ads. I prefer a more discreet approach. I don't give out any phone numbers, names or personal information without consent."
Her client base spans both the religious and secular worlds. "In my initial interview, I ask about all important preferences and make a decision based upon my client's desires. Sometimes I may offer some counseling in order to put them on track, but always the client has the final say in all areas. There is no time limit to my personal service of introductions nor is there pressure to marry."
Carol has stepped into the world of the Internet by opening her own site, which is www.worldofsingles.com in order to give people another outlet in their search.
Carol says that about 40% of her clients are listed on the Net, and then many of them turn to her for a more personal and discreet service. "We meet and I listen very carefully to what people say. They must like and trust me. Once a possible match is made, I call each of them for their consent. I suggest that each of them calls me after their first date and tell me briefly how it went and if they plan to see each other again. In this way, I keep up to date and know how to proceed."
Sometimes there is a "click" on the first date; other times it is a definite "no". I try to get as close to the person's wishes as possible," says Carol. This is one way I can care, and have personal control over the way their lives are touched and matches made."
Carol herself has been happily married for 34 years to her husband Barry and has three married children. "It is important that a matchmaker herself has a good experience in marriage. It gives me added expertise to bring my profession and impetus to continue being a "workaholic". Nevertheless, my phone is off on Shabbat until after sunset, so I can recharge my "batteries". I like being an active business person and the Jewish saying," says Carol with a twinkle in her eyes, "that for every three matches one makes in this world, a place is reserved for them in Heaven. Perhaps one day I'll have extra "real estate" up there, in addition to many satisfied married couples on earth."
Mitzvah's, Carol performs professionally. As for me, I've met 12 gorgeous men, lawyers, hi-tech and computer experts, doctors and businessmen. I've been dating for a month with a lovely 34 year old Israeli who has a Ph.D. I hope he is the right one for me.
I asked all my dates why such good looking guys need to register with A World of Jewish Singles. They told me that they have been embarrassed by introductions by well-intentioned friends or family that were totally wrong. Or they find hanging out in pubs and discos pleasant but unlikely places for finding a quality lady suitable for marriage. That made sense to me.
As they said, if you go to a doctor, lawyer or accountant for professional advise, why not choose a professional when you make a decision to find a quality life partner? Among the professional matchmakers Carol Shaw of A World of Singles is the best.